+ 254 (0) 20 2000290

+254 716 842 277

Africa Conservation Centre

Hekima Road, Karen, Nairobi

Mon - Fri 8:00am - 5:00pm
Details

Written by

Shillah

Category: News
Hits: 263
We will convene a side event on connectivity and coexistence on Friday 18th November 2022. The speakers include the Cabinet Secretary Tourism and Wildlife Hon. Peninah Malonza, two governors, Ntutu (Narok) and Lenku (Kajiado), Dr. Patrick Omondi of Wildlife Research and Training institute, IFAW and Kenya Wildlife Conservancies association.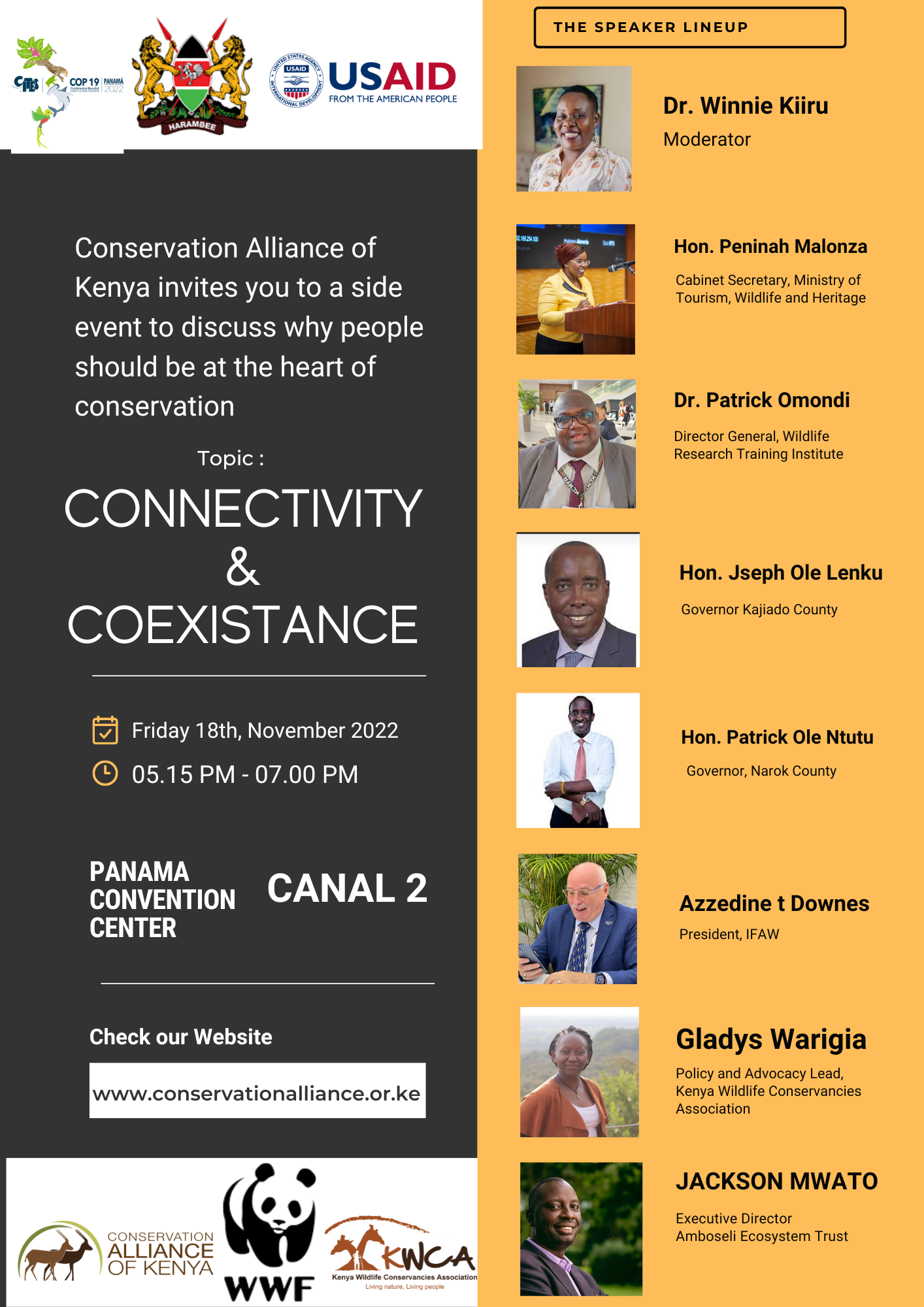 Details

Written by

Shillah

Category: News
Hits: 829
Position Description
The Laikipia Forum is membership organization dedicated to "A productive and robust Upper Ewaso Ng'iro landscape (15,000 sq km) that supports livelihoods and healthy populations of wildlife".
Mission – to nurture and support stakeholder instutitions that champion wildlife conservation and sustainable natural resources management in Laikipia and among its neighbors.
Founded in 1992, the Forum is celebrating its 30th year of service to the residents of the greater Laikipia landscape. Its new Board consists of 15 agencies and organizations at work in this landscape.
The Forum's strategic plan for 2018 -2030 increases our role as a service provider, secretariat, and capacity building organization to a growing number of programs, and projects in the landscape.
We are focused on serving our membership with cross-cutting services, and we build the capacity of member associations to design and implement programmes and projects that achieve our common Mission.
Ultimately, we serve as a collective voice on issues that impact our environment, and we advocate for policies, legislation, programmes and actions that impact us all.
The Executive Director will:
Strategic
Guide the implementation of the Forum's Strategic Plan
Work with the Board and guide the appointment of an Advisory Council for the landscape
Secure consistent and strategic programmatic relations with county governments embraced by the landscape on issues of common concern, e.g. security, water, rangelands, wildlife, tourism, land use etc.
Forge long-lasting partnerships with our implementing partners in the upper Ewaso Ng'iro landscape
Develop and lead an advocacy and lobbying programme based on the Forum's support for key themes and partners.
Management
Supervise the secretariat services of the Forum
Supervise the development of Annual Operations Plans and Budgets
Maintain strong financial oversight of the Forum's funds and ensure accountability to members, donors, and supporters.
Supervise the staff of the secretariat and guide their performance in support of partners and their grants.
Supervise the maintenance of effective cross-cutting services that can include communications, monitoring, and audits/evaluation as required by the members, Board, and funding partners.
Knowledge and Information Management
Ensure that the Forum's services are focused on results
Ensure that the reporting formats needed for donors, funders, and the Board are maintained and communicated at appropriate levels
Supervise the establishment of an effective knowledge management system that supports informed decision-making among the Forum's members, the public, and local governments.
Fundraising
Lead the fundraising efforts of the Forum to attract both new partnerships financial support of members' initiatives, and to cover the core operational costs of the Forum
Design and lead capital development campaigns.
Guide Capacity Building Efforts
Supervise a Forum unit dedicated to the development of institutional and organizational capacity among the membership, their associations, and support improved governance internal to and between groups and partnerships.
Key Qualifications
A Kenyan Citizen
Proven leadership skills as demonstrated in similar efforts, including programme, project, financial and administrative system management
Demonstrated commitment to building governance and programming capacity among members and their representative bodies.
Demonstrated excellence in programme and project management.
Demonstrated excellence in dealing with county, national, and international government representatives and counterparts
Proven fundraising skills and results
Prior familiarity with the region, partners and actors.
Demonstrated ability to work with a diverse and cosmopolitan membership with diverse landscape interests.
A Masters' Degree or better in a relevant topic (Natural Resources Management, non-profit development, organizational and/or business management, or integrated conservation and development programming).
Recruitment is open to all Kenyans with the requisite skills and qualification. Women in particular are encouraged to apply. The job will commence in August 2022.
Applicants should apply to This email address is being protected from spambots. You need JavaScript enabled to view it. with a detailed CV, letter of application explaining your interests and qualifications for the job, and at least three professional, informed references, who have either worked with you or supervised your work. Deadline is July 20, 2022.
Only shortlisted candidates will be contacted.
Details

Written by

Shillah

Category: News
Hits: 925
We oppose and reject The Forest Conservation and Management (Amendment) Bill (National Assembly Bill No. 53 of 2021)
Cabinet Secretary for Environment and Forestry has initiated a comprehensive review of the Forest Conservation and Management Policy and law to comply with the Constitution 2010. While that process is ongoing, we are concerned that the proposed amendments intend to do away with expert involvement of Kenya Forestry Services (KFS) in recommending to Parliament on conformance of petitions with provisions of the same Act when it appertains to altering or excising public forest land, thereby greatly weakening governance and protection of public forest land.
Historically, it is estimated that Kenya lost over 420 million hectares of forest, equivalent to 6.5% of its forest cover due to forest excision and other land uses prior to enactment of Section 34 of the Forest Conservation and Management Act, 2016 which has protected forest from further excision since coming into being, thereby increasing the Kenya forest cover.
For the record, Section 34(2A) was carefully crafted in response to arbitrary excisions that led to the wanton destruction of public forest in the late 1990s and early 2000.
The proposed amendments are being made with a measure of bias and self-interest that will weaken the governance of public forests.
Hon Keriako Tobiko, Cabinet Secretary Environment and Forestry has written to the National Assembly to reject The Forest Conservation and Management (Amendment) Bill (National Assembly Bill No. 53 of 2021), that tells you its not a bill that will be beneficial to kenyans if the Minister in charge of environment and forestry is against it.
Conservation Organizations should engage the relevant Ministries, Kenya Forest Service and the Kenya Land Commission to amicably find solutions to resolve land issues or forests that have been encroached and regularized within the current law.
The National Assembly should suspend the debate on the Forest Conservation and Management (Amendment) Bill (National Assembly Bill No. 53 of 2021) to allow Ministry of Environment and Energy and Kenya Forestry Services continue their good work to protect forest land and recover what has been lost to unscrupulous persons and/or entities
Kenya Forest Service (KFS) should audit forest land and acreage, including recommendations on all encroached public forests and submit the report to the National Assembly.
Investigate and make recommendations and take appropriate actions on the Kenya Forest Service report findings with a view to resolve historical unresolved forest land issues.
The Ministry of Environment and Forestry, the Kenya Forest Service and the County Government should stop further encroachment of public forest land.
The Ministry of Environment and Forestry and Kenya Forest Service should speed up the comprehensive review of the Forest Conservation and Management policy and law to enhance the governance and protection of all forest lands in Kenya (shielding public forests from land grabbers).
The National Assembly allows the Cabinet Secretary Environment and Forestry to complete the ongoing review of the Forest Conservation and Management policy and law.
Details

Written by

Shillah

Category: News
Hits: 678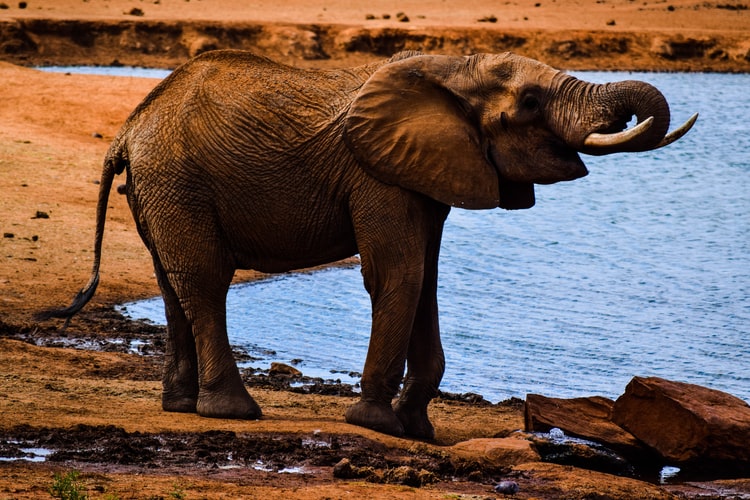 We need innovative Ways to Tackle Human Wildlife Conflict. According to KWS, between 2017 and 2020, a total of 388 Kenyans died after being attacked by wild animals, while 2,080 were left nursing various injuries. Most probably, these statistical facts have soared up to date. A disbursement of Ksh.530 million was made by the Ministry of Tourism and Wildlife, this was to go towards compensation of the victims of wildlife casualties, fatalities, and property losses. Despite the compensations, life is sacrosanct, and no amount of compensation can neither be equated to the pain of loss of a loved one, nor is there any merry-making with compensation money when one is bereft of a limb or two courtesy of wildlife-human conflict.

World Wildlife Report by UNODC of 2020 shows that in Central, Eastern and Southern Africa alone, between 2006 and 2018, 17,000 elephants were poached annually. This means that for the 12 years, the region lost 204,000 elephants; a humongous number and a great loss to conservation and eco-tourism. In 2018 alone, 386 elephants were killed for their precious trophies in Kenya. The aforementioned information shows that both humans' and wildlife's lives are lost concurrently if not in a simultaneous correlation. Losing both facets of life is both economically depressing because – as human capital is lost through this conflict, the wildlife esthetic that encourage eco-tourism is also lost.

With human population increase and the consequential human settlement and urbanization, there is a correlation decrease in wildlife corridors together with the ever-shrinking wildlife habitat. This implies that there would be an automatic cohabitation between the wildlife and humans as the domestic bulges towards the wild while the wild shrinks to the domestic. This calls for innovative approaches and amicable ways of addressing these wildlife-human conflicts.

The amicable innovative way that should be adopted is taming the wild in order to achieve friendly coexistence between the wild and the domestic in order to have a blend of heterogeneous ecosystem, of course with a distinction of the jungle and human habitats.
Details

Written by

Esther Kiragu

Category: News
Hits: 616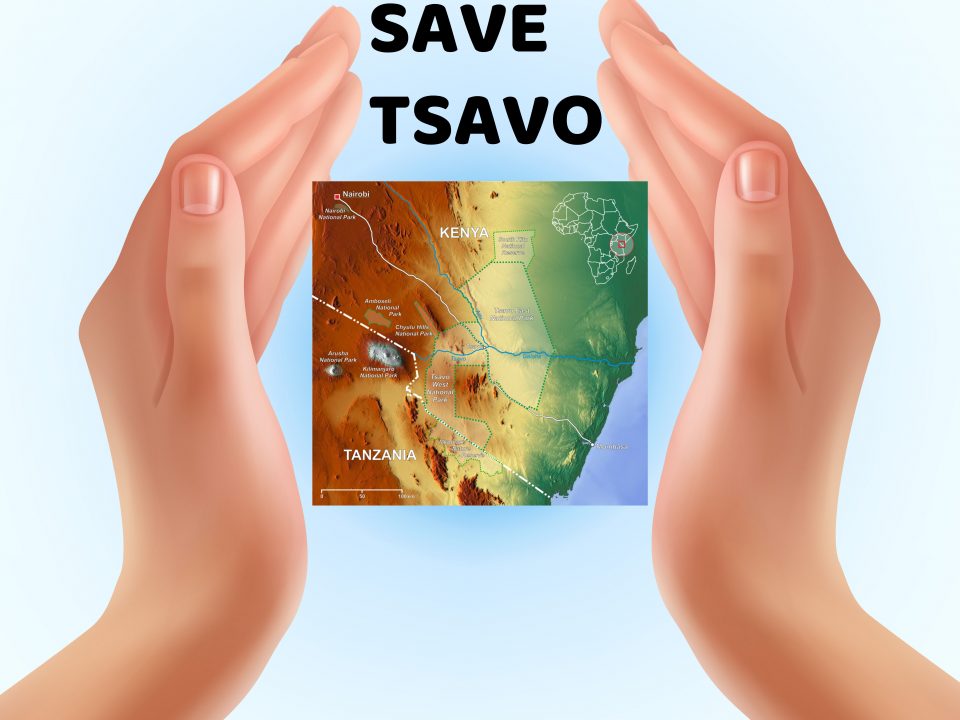 By Esther Kiragu,
Taita Taveta County is one of the six counties in the coastal region of Kenya and covers a total area of 17,084.1km2 with 10,649.9 km2 (or about 62%) being within Tsavo East and Tsavo West National Parks, a major tourism destination. Lakes Jipe and Chala occupy 106km2 of Taveta sub-county, whereas sisal estates and hilltop forests occupy less than 100 km2. The rest of the area is public and private land such as ranches.
Climatically, the County is dry, except for Taita Hills, which are considerably wet. The vast rangeland covering Tsavo East and Tsavo West National Parks in the Lower Zone forms the Tsavo Ecosystem, which includes the community (group) ranches made of open savannah, woodland and dryland forest. The ecosystem has a wide array of biodiversity and holds one third of Kenya's total elephant population.
The ecosystem as a whole does not only provide livelihoods to many communities but supports the Kenyan economy significantly through tourism income. This implies a wide stakeholder base has interests in the ecosystem ranging from communities, civil society and government. The interests vary but also depend on ecosystem health and landscape connectivity within and beyond protected areas.
The County has close to 30 registered ranches and with the main land use in the ranches being wildlife tourism and conservation, as well as cattle grazing. The ranches were adjudicated under various categories, including communal (pastoral) group ranches to safeguard grazing grounds and commercial production systems spanning a few co-operative and individual ranches. However, most of the ranches are either private incorporated as a company limited by shares, with 50 shareholders and lease period of between 33 to 45 years or Direct Agricultural Company (DAC) ranches in which the number of shareholders is not limited, but company is limited by the total number of shares. DAC was to facilitate further ownership of land by locals, where the Government allocated companies formed by shareholders drawn from existing administrative units to compensate for land lost by the communities during the setting up of the Tsavo National Parks. These DACs were allocated leaseholds of between 33 and 66 years, with the national government retaining one share and veto power on technical and policy issues on the management of the ranches.
In terms of land-uses, wildlife tourism and conservation, livestock production are the main land uses. However, livestock production was discontinued on most of the ranches in the 1980s and 1990s due to various reasons including unfavourable markets, overgrazing and land degradation, and natural calamities such as drought (Njogu, 2004). Collapse of cattle ranching left most ranches indebted with loans acquired from the Agricultural Finance Corporation to run their ranching activities (Njogu 2004; Veit, 2011). As a result, changes took place over the years with some of the lands either have been sold off resulting in change of designation or the formation of new entities or subdivided.
Lack of clear policy, inadequate coordination mechanism and poor implementation across sectors and absence of major economic activity to incentivize the ranch owners has paved way for encroachment by people practicing slash and burn agriculture and charcoal production. Consequently, there is a general feeling of disillusionment and the sentiment that the ranches are perhaps best subdivided as they see no value from them. Once the ranches are subdivided, the movement of wildlife between the national parks and the dispersal areas will be very limited. There will be loss of open space necessary for maintaining the elephant & other wildlife population. Some of the expected outcomes will further include:
Systematic loss of primary productivity in the ecosystem that is likely to occur as a result of increased agricultural activities coupled with poor land management practices, loss of vegetation cover, increased siltation, reduced river flows and the effects of climate change.
Loss of valuable habitat not only for wildlife but also for water conservation and other ecosystem services.
Migratory routes are going to be closed and the dispersal areas significantly reduced in size.
Loss of opportunities in wildlife and nature-based businesses.
Increased risk of induced poverty. This may lead to inappropriate land use and land degradation resulting from land sales
Incidence of poaching is likely to increase for local, regional and international markets
Human -Wildlife Conflicts are likely to increase as more land is likely to be put under cultivation or fenced.