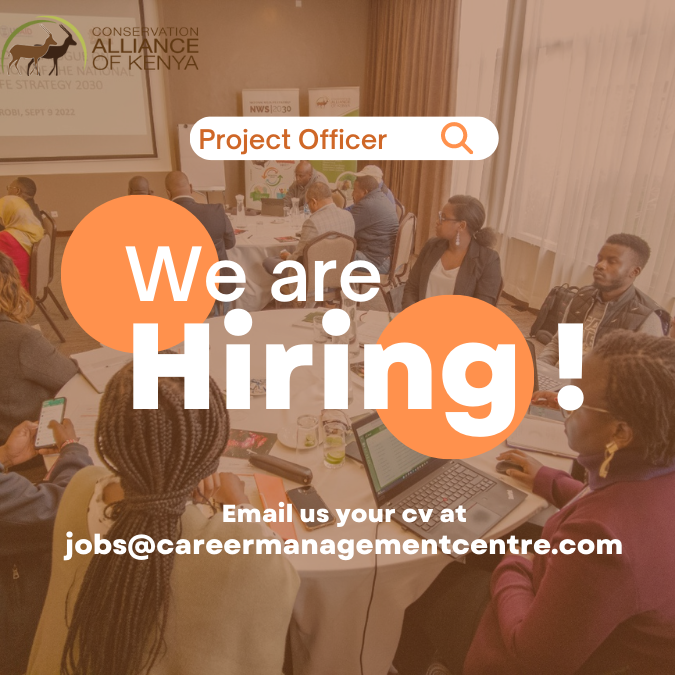 TO BE BASED IN NAIROBI WITH TRAVEL IN EAST AFRICA
Career Management Centre is a Human Resources Management Consulting firm that offers comprehensive HR Services including Recruitment, Job Evaluation, Training, Payroll Outsourcing, Labor Compliance, Engagement surveys, Staffing Solutions & HRMS to businesses both at a strategic and operational level (https://careermanagementcentre.com/).We firmly believe that HR is the nucleus of any organization irrespective of any size or industry
Our client, The Conservation Alliance of Kenya (CAK) is an umbrella body with a membership of over 65 conservation NGOs working to advance biodiversity conservation in Kenya.
CAK is a non-profit company registered in Kenya with its head office in Nairobi. CAK supports, coordinates and facilitates members to communicate, exchange and share their expertise and experience in the context of biodiversity conservation and interactions between people and nature. CAK works in a strategic alliance with the government, USAID, IUCN and Kenya Wildlife Conservancies Association (https://www.conservationalliance.or.ke/ )
CAK is seeking to recruit a Project Officer, to be based in Nairobi with travels within Kenya and East Africa for one-year contract with the possibility of extension
Overall Job Purpose
This position will be responsible for implementing projects and proposal development. These projects vary in type, size, and objectives, but share the ultimate goal of addressing threats to the conservation of nature. This position will work closely with project partners including government, development partners and private sector counterparts, and regularly report to the CEO about resource mobilization and project management.
Specific Duties
Projects Implementation and Management
Take the lead and ensure the timely and effective implementation of assigned projects, including designing, developing methodology, implementing or supervising the delivery of project activities with partners, developing strategic partnerships, reporting, capturing the impact and learning that arise from these activities, follow-up actions and other required administrative tasks.
Conduct other project management processes including project approval procedures.
Ensure transparency, ethical conduct, and efficiency in project implementation.
Undertake other tasks relevant to the project as determined by the CEO.
Partnerships, Collaboration & linkages
Establish and maintain relationships with relevant project stakeholders including local government, the private sector, civil society representatives and, the donor; identify opportunities to collaborate with other organizations and leverage resources; and maintain smooth and regular communication internally and externally.
Take the lead in organization and participation in project events (meetings/workshops/training and others).
Project monitoring and reporting
Timely prepare quarterly/bi-annual/annual technical reports; take the lead or provide technical inputs into the development of training and other documents.
Ensure monitoring and evaluation process for activities and interventions delivered through the assigned projects.
Fundraising and proposal development
Support development of proposals as requested
Provide appropriate guidance and supervision so that project partners can develop qualified project proposals and budgets.
Qualifications
A Bachelor's/Master's degree in wildlife conservation, natural resource management or a related field.
A minimum of 3 years' practical experience implementing projects in wildlife conservation in Kenya with a non-governmental organization
Strong project management, organizational, and financial management skills.
Knowledgeable in contemporary issues in Conservation, wildlife and environmental issues.;
Skills in Stakeholder engagement including local communities and partnership building;
Technical report writing;
Proposal development, fund-raising and resource mobilization ability;
Job application procedure
Fill in this application form https://forms.office.com/r/xstSzyjUXn and then email a cover letter and CV to This email address is being protected from spambots. You need JavaScript enabled to view it. clearly indicating the position applied for on the email subject - Project officer – CAK by COB 19th April, 2023.
Salary: Indicate your current monthly salary in the cover letter.
Due to the urgency, interviews will be on a rolling basis.
NB: Only short-listed candidates will be contacted. Career Management Centre is a proud equal opportunity provider and does not discriminate the applicants on any basis.